24 May 2022
Dave Reeve on the work of the Board and Get Keep Grow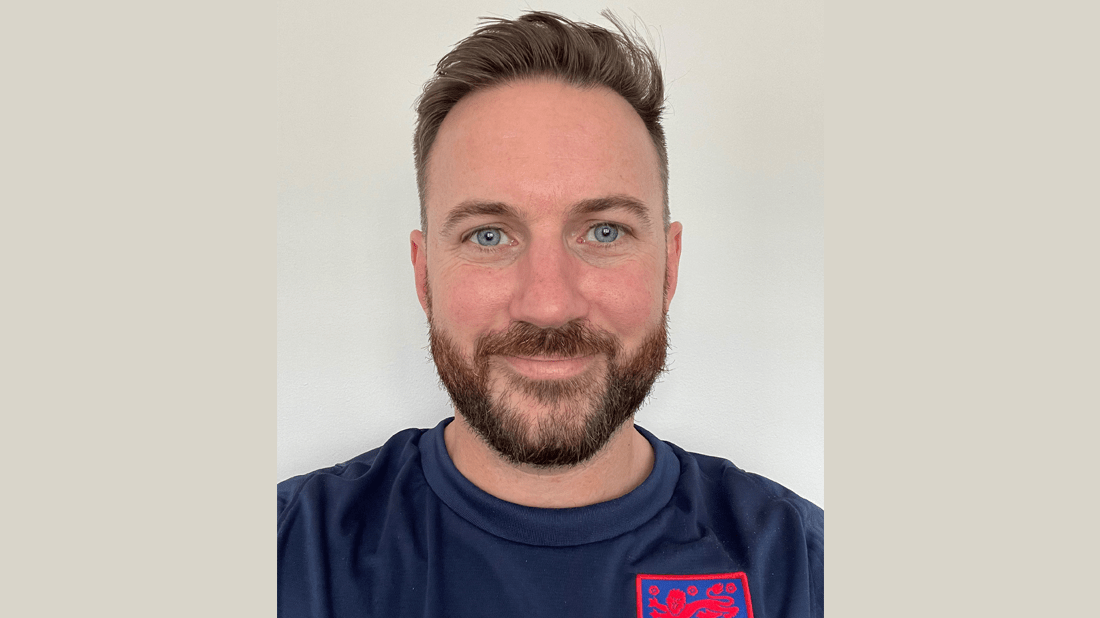 Dave Reeve has been a Director, co-opted to the Volleyball England Board, since September 2021. During that time, he has been working as part of the Get Keep Grow Subgroup.
The Get Keep Grow Subgroup plays an important role in bringing our 10-year strategy, The Game Plan, to life. Dave's experience in the sports industry gives the Subgroup a wider perspective on club structures in England, ensuring they can cover all basis and provide the best possible service for volleyball clubs.
Dave has been working in sport for over 15 years. His first job after graduating from the University of Birmingham with a Sports and Exercise Degree was working on sports development for Huntingdonshire District Council. In this role, Dave led programmes in disability sport and under-represented communities, with a focus on people in areas of social deprivation and those historically under-represented in sport.
Dave's next role was with the LTA (Lawn Tennis Association), where he was promoted twice, finishing up as Head of Park and Community Tennis. He worked on a number of innovative projects at the LTA, including the introduction of a new SmartAccess technology solution (Connected court and automated floodlighting control) from conception through to ongoing implementation supporting 60,000 players to play over 600,000 times generating over £1.1m worth of pay and play for venues in a three year period.
Since June 2020, Dave has been working at the FA (Football Association) as a Senior National Development Manager. In this role, he leads the male, female and disability player pathways team in the grassroots division and is responsible for future-proofing the game. Leading on key deliverables such as the Equal Access for Girls in clubs, the new FA wide disability gameplan for football and targeted work at key drop off points in the male pathway his work programme supports around 1.5 million players.
Dave spoke to us about the work that he and the rest of the Get Keep Grow Subgroup have been doing to support clubs, and how his expertise in sport plays an important role in his work on the Volleyball England Board of Directors.
How has your expertise contributed to your role as a Director on the Volleyball England Board?
The reason I got involved was because I felt like I had good cross sector sports experience and that I could support another NGB (National Governing Body) in a board capacity. Volleyball felt like a really good fit at an exciting time with the Commonwealth Games around the corner. I've always seen volleyball as a progressive sport and was keen to get involved and support its growth.
I've been working with Jess Plumridge, who leads the Get Keep Grow Subgroup and Freda Bussey, who also works on the Get Keep Grow Subgroup. I feel it's an excellent fit as Jess and Freda have expert volleyball knowledge from their involvement at Leeds VC and Ashcombe VC, South East Junior VC and the South East Regional Association, whilst I bring wider sports sector knowledge. We have been working together to look at the needs of the organisation and how they can be aligned to the strategy.
How has your expertise contributed to the Get Keep Grow Subgroup?
It's been a really interesting process, from looking at the board and subgroup structure, to the direction of travel through the organisation. We've been able to delve into different membership options, and I've got involved in the digital review and solutions.
More recently, the Get Keep Grow area of The Game Plan, has cut across Volleyball For Life. We've been discussing the concept of how people start playing volleyball, and how to make the sport more accessible for those that haven't played before. I have an inherent understanding of club structures and programmes across the landscape, meaning I've felt able to contribute well to both the Get Keep Grow and Volleyball For Life Subgroups. I'm working to help position Volleyball England in the best way to support the club network.
How does the Get Keep Grow Subgroup and area of the strategy support clubs?
The feedback from clubs through the recent Club Survey has been extremely useful and we're really appreciative of the insight that clubs have provided us with. We're exploring the results and looking at what recommendations should be put forward. Data led work like this is critical to ensuring the work we do will actually benefit volleyball clubs and be useful for them. It's a work in progress, but we're making some real positive progress.
In any sport, the club delivery network is key to success, it's a core sporting provision. Clubs are the life blood of any sport and we want to make sure that the work The Hub does is helpful for the volleyball clubs' network, making them as strong as possible.
What has the Get Keep Grow Subgroup done to support clubs so far?
There's a live piece of work, currently in the early stages, around what Volleyball England's membership and affiliation structure could look like in the future. We're exploring any changes that could be made to make it easier and more rewarding for individuals and organisations to become a part of Volleyball England and for us to build a closer relationship.
What's coming up for the Get Keep Grow Subgroup?
The work on what membership looks like it the biggest piece at the minute. We are also working on how we can provide resources to clubs through something like a club portal. Other sporting organisations successfully use a club portal to provide on demand services and resources to clubs, something we should be looking to replicate.
Overall what's been your first impressions of your involvement with VE?
It's been really good fun to get involved with a different organisation and been exciting to learn about a new sport and to make a positive contribution. Volleyball England is now going through another transition period, with a change in CEOs which presents a real opportunity for Volleyball England to move forwards with a change of leadership. The Board of Directors is a good healthy mix of volleyball knowledge and wider sector expertise and there's a real desire to work with the community to evolve the sport