29 Jul 2022
Our Time To Shine: Team DJ and the Bello Brothers go in search of glory at Birmingham 2022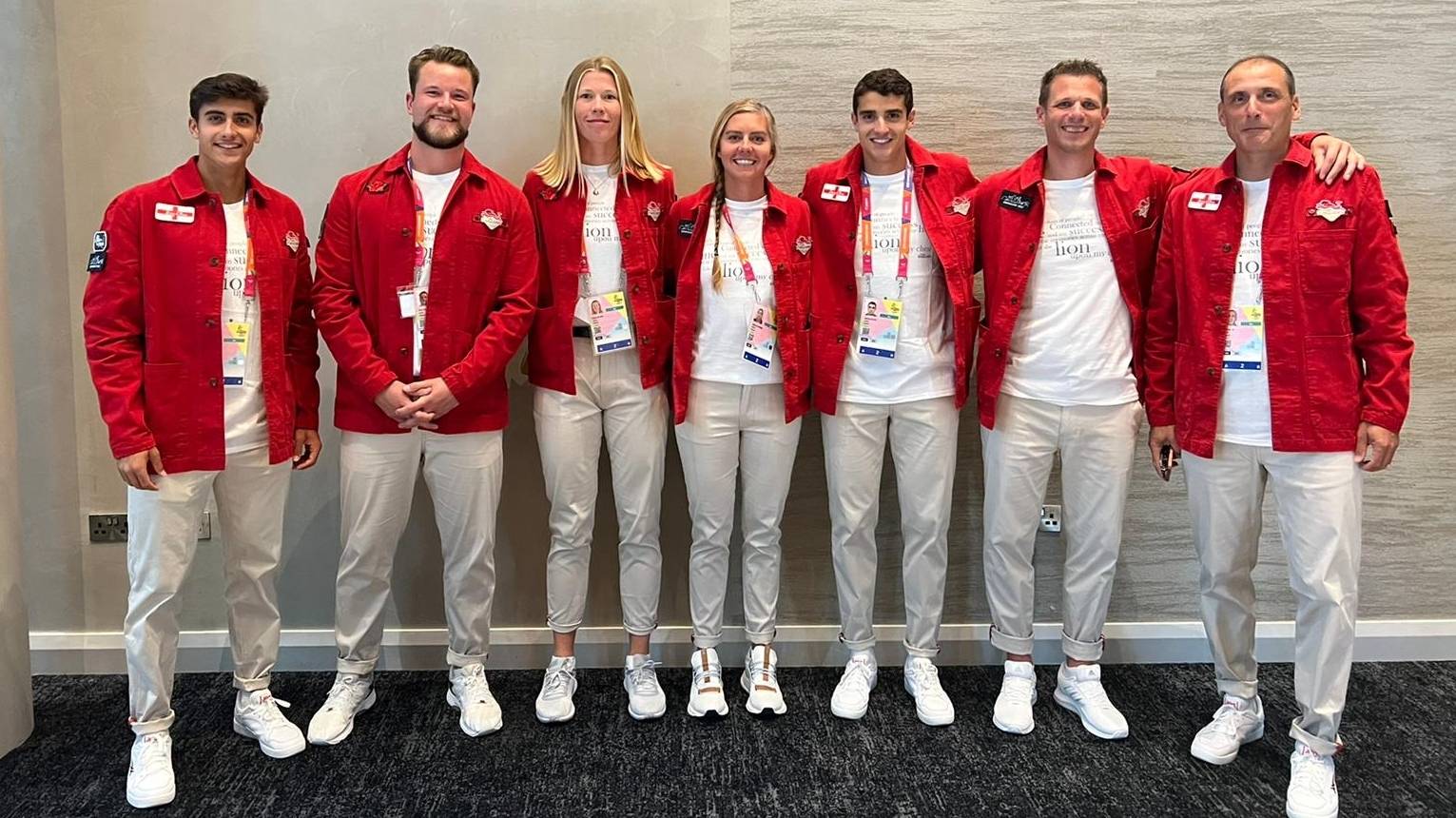 The wait is almost over.
It has been 1,081 days since beach volleyball was added to the programme of the 2022 Commonwealth Games. Now we are hours away from showing the country, and the world, what we are capable of in the sport's biggest domestic showcase in a decade.
Last night's opening ceremony marked the start of the biggest sporting and cultural event ever to be held in Birmingham. Not only that, Birmingham 2022 also boasts the claim of running the biggest sporting programme in Commonwealth Games history.
England's own history makers, Javier and Joaquin Bello and Jess Grimson and Daisy Mumby, were joined by Men's Coach " and Dad " Luis Bello, Women's Coach and Sports Psychologist Nick Morris, and their England teammates from across sports at Alexander Stadium for the grand opening party.
A mighty roar erupted from the home crowd as 'We will, we will rock you' burst from the speakers moments before Team England made their entrance. England's beach stars will hope that home crowd support will give them a huge advantage over rivals on their charge for medals.
Team DJ
Daisy and Jess secured qualification to Birmingham 2022 with eight weeks to go " the culmination of two years of hard work and sacrifice for this exciting new duo.
Jess, who previously partnered with Vicky Palmer, has unfinished business with the Games after her quest for silverware was blocked by Vanuatu in the quarterfinals of Gold Coast. The combination of her experience and Daisy's towering presence has a proved a winning combination for England's leading women's team.
In preparation for the Games, Team DJ embarked on a 5-week Euro trip, picking up England's first gold medal of any team at the NEVZA Beach Championships on their travels while picking up vital experience against some of the world's best.
They headed to Brum upon their return and became the first team to move into the athletes' village and the first athletes to use the centre court at beach volleyball's 4,000-seater Smithfield arena in the process.
Daisy Mumby said: "Looking back, I had no idea what a rollercoaster of an adventure I was embarking on when Jess asked me to join her on the road to Birmingham 2022 back at the end of 2019.
"The highs of making my international debut and later winning a gold medal in Norway. The lows of the pandemic and having to train in isolation. In a relatively short time, we've been on a wild ride and gone from strength-to-strength as a team.
"Our preparations have gone extremely well and we're ready to go. We know what we can achieve, and we'll be taking one game at a time to make that happen."
Team DJ come up against the Solomon Islands in their opener on 31st July. Games against Scotland and Vanuatu, on 2nd and 4th August, respectively, follow.
The Bello Brothers
Excitement for the competition at Smithfield has been building for some time, and on the afternoon of Saturday, 30th July it will reach fever pitch at the Bello Brothers play the first game against South Pacific island nation Tuvalu.
"I remember watching the 2018 Commonwealth Games when beach volleyball wowed crowds over on Australia's Gold Coast on its debut," said Joaquin. "It was a year after we made history for England by winning gold at the Youth Games, and we thought to ourselves: 'we absolutely want to be a part of that next time."
In their trophy cabinet the Bello Brothers have 2 bronze medals from the World Tour and 1 gold. They recently secured a gold medal at the NEVZA Beach Championships during their productive pre-Games preparations.
Since winning their place to the Games, the brothers have been busy. On top of travelling the world on the Beach Pro Tour, they've been fulfilling busy media duties, visited 10 Downing Street for afternoon tea and " to top it all off " Joaquin began his penultimate year of medicine. Thankfully he has been given some leave for the Games. No wonder they arrived at the athletes' village later than others.
Joaquin added: "Getting to the start line is only the first part of our dream. With the roar of the home crowd behind us, we want to further stamp our names into the history books by winning England's first beach volleyball medal at the Commonwealth Games.
"We're full of confidence and excited to get started against Tuvalu on Saturday."
After Tuvalu, the Bello Brothers face Cyprus on Monday, 1st August and 2018 bronze medalists New Zealand on Wednesday, 3rd August.
Andy Jones, Talent Coordinator at Volleyball England, added: "The moment we have all been waiting for is here.
"I'm really looking forward to seeing both our teams put on a spectacle for the home crowd. They've had great preparations and are in very good positions running into the Games.
"I wish Daisy, Jess, Javier, Joaquin and their support team the very best of luck. I know they will make us all proud.
"Let's use our home advantage to show both teams some love and support however we can. This is England's moment to shine."
Click to dig deeper into the back stories of Daisy Mumby, Jess Grimson, Javier Bello and Joaquin Bello