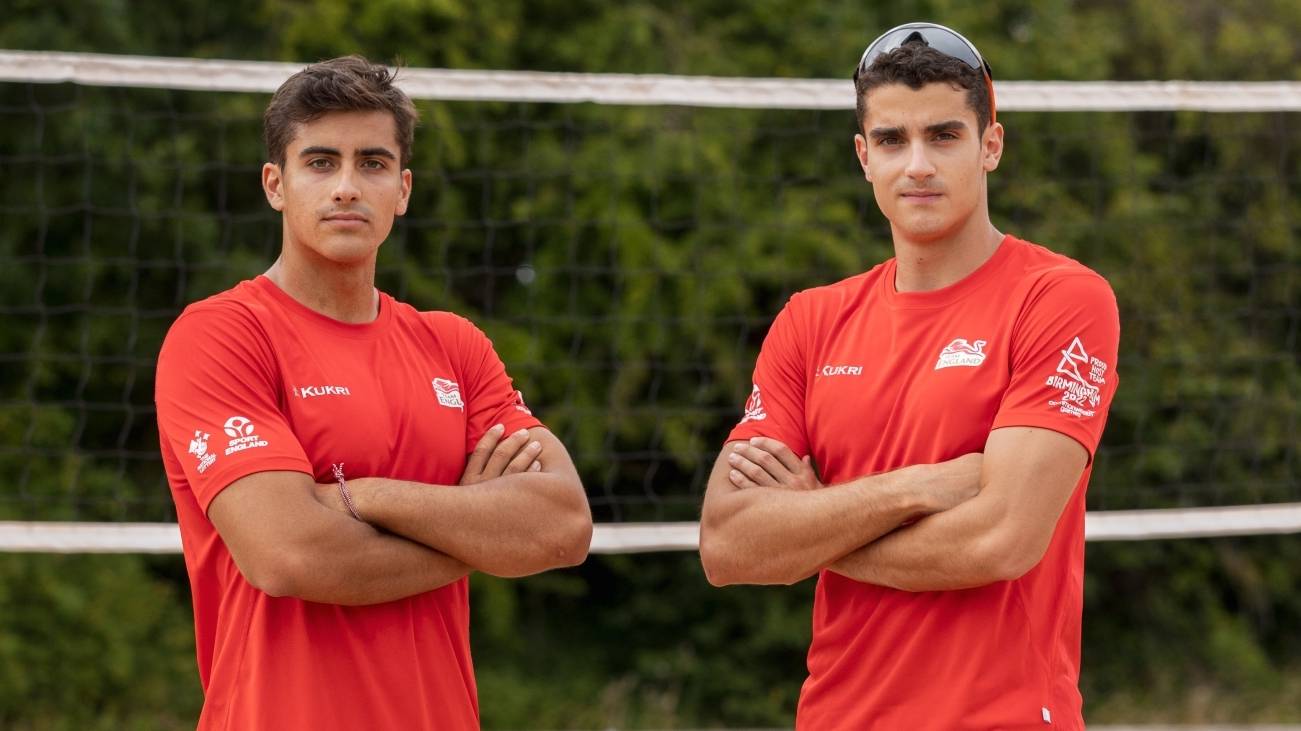 Beach volleyball stars Javier and Joaquin Bello have won over legions of new fans thanks to their spectacular displays at the Birmingham 2022 Commonwealth Games.
With the twins set to play the biggest game of their lives against Canada in the semifinals, we're recapping their back stories and answering some of your most asked questions on the brilliant Bello Brothers.
Where do they come from?
The Bello Brothers were born in Madrid, Spain, but have counted London as their home since their family moved over when they were just 10. Their volleyball development has happened in London ever since. They train in Barn Elms and, before switching exclusively to beach volleyball, played indoor volleyball at Richmond VC.
How old are they?
The twins celebrated their 22nd birthday on 20th July, just in time for the 22nd Commonwealth Games in... 2022.
How long have the Bello Brothers played volleyball for?
Since they were 6 years old. They used to play both indoor and beach volleyball but switched to play the later exclusively around 5 years ago.
Tell us some little-known facts about Javier and Joaquin.
1) After they were born, the first place the twins went to was a volleyball match to watch their Dad play. This was before they even went home!
2) Their cousin Miguel Ángel De Amo was the U21 World Beach Volleyball Champion in 2004.
3) Javier was born 5 minutes before Joaquin.
How did they qualify for the Commonwealth Games?
Although England automatically qualified for the 2022 Commonwealth Games, determining win team was to represent England was not so easy.
England boasts a number of talented men's and women's teams, and so the decision was made to hold a Commonwealth Games Selection Tournament. The Bellos triumphed over England rivals Issa Batrane and Freddie Bialokoz in a sensational final in May 2022 to secure their Team England place.
Watch them re-live their winning match point here or watch their reaction to their family's emotional celebration here.

You can also find out more about their backstories by listening to our special Commonwealth Games podcast VolleyChat, where we re-cap their journey to Birmingham.
Do their family play volleyball too?
Just a little bit...their Dad, Luis, is their coach. He used to play indoor volleyball professionally back in Spain. Their Mum, Barbara, also played to a good level but injury stopped her from going any further. She is the Team Manager. Javier and Joaquin have a younger brother, Enrique, who also plays beach volleyball for England.
Why do they hug so much?
This is actually one of the internet's most asked questions!
Beach volleyball is intense. Not only does hugging help to bring the team together and show support between points, it also helps extend the downtime between points to give the athletes a bit of a breather.
Watch the Bello Brothers answer more of the internet's most asked beach volleyball questions here.
What other sports do they follow?
Javier and Joaquin are huge basketball fans and closely follow the NBA. Javier's all-time favourite player is Michael Jordan. Joaquin's is LeBron James. As kids they also played roller hockey.
What do they do off the volleyball court?
Javier recently graduated in Politics, Philosophy and Economics from Royal Holloway University, while Joaquin has started his fifth year studying medicine at Imperial College. They also both coach volleyball when time allows.
How did they make it to the semifinals?

You can read a re-cap of their route to the quarterfinals here. They beat The Gambia 2-1 in an enthralling end-to-end match to make it to the semifinals.
Where can I watch England's Bello Brothers play Canada in the beach volleyball semifinals at the Birmingham 2022 Commonwealth Games?
The BBC will once more be providing coverage of the England game. Action from the semifinal match will be shown on BBC1, the game will also be available to watch via the iPlayer.
How can I follow their progress?
Javier and Joaquin play beach volleyball all over the world and regularly share pictures and videos from their travels. Javier's Instagram username is @javier_bello1 and Joaquin's @joa_bello. They also post updates on Facebook and Twitter.
Volleyball England also shares exclusive content on the Bellos as well as other England teams, make sure you're following:
---
Have the Bello Brothers inspired you to give volleyball a go? It's a super social sport and great for fitness. If you're a beginner, head to our Club Finder tool to find a location near you.