17 Aug 2022
Winners of the 2022 Volleyball England Annual Awards in partnership with Huck Nets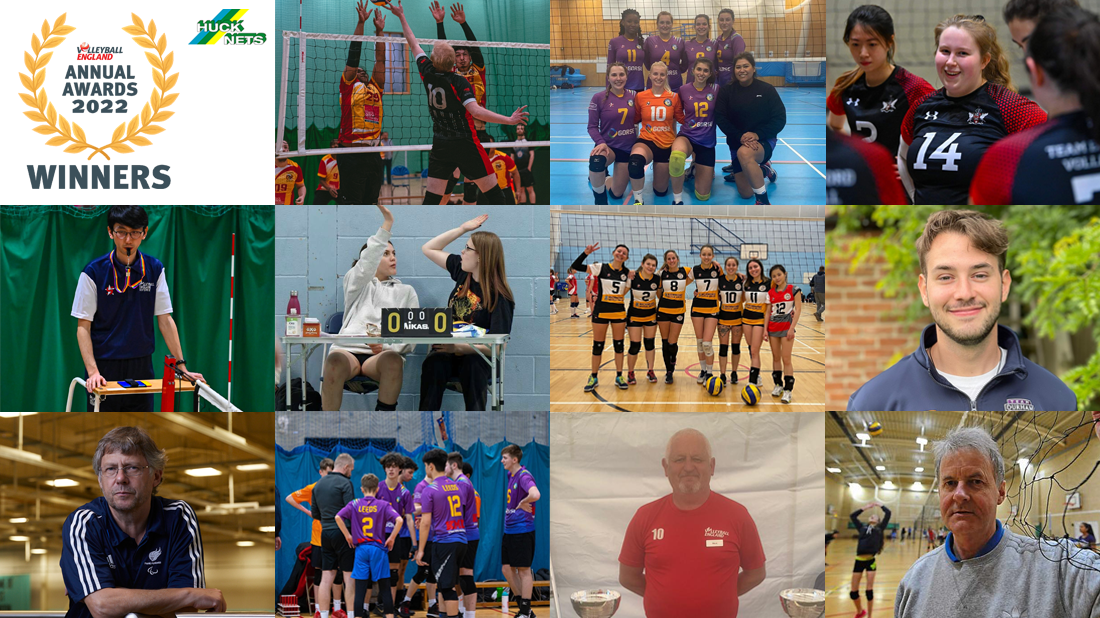 The virtual awards ceremony was held on Friday 22nd July and hosted by commentator Dave Rogers. Winners were decided by our independent judging panel: Jenny Betteridge from Sport England, Kate Hannon from the Women's Sport Collective and Alastair Marks from British Rowing.

Young Coach of the Year
The first award of the night was the Young Coach of the Year Award, which went to Tom Bedworth.
On being an award-winning coach, Tom said "I had a bit of imposter syndrome at the beginning of the season, I'd never coached before, but I just wanted to give something back. So having this behind me, it's not going to change how I go about coaching but that self-belief, and giving even more back hopefully in the future, that's hopefully what it's going to do."
Coach of the Year
Up next came the Coach of the Year award, which was won by Elaine Brown.
Elaine said "it's been an incredible year; I'm so pleased with the progress the juniors have made. We've just gotten so many kids playing and they've fallen in love with it. So, to be there and support that growth and progress has just been everything."
Young Official of the Year
Aileen Barry won the 2022 Young Official of the Year award.
Aileen, who started refereeing at age 15, said "I just love the sport [of] volleyball, I've been involved from a very young age, as far as I can remember. Getting into refereeing was my choice, it's my passion now."
She's refereed over 100 matches this season, saying "every Saturday and Sunday since late September I've been refereeing in different places. I've been to Manchester, Leeds, York, you name it, I've been everywhere."
Referee of the Year
The Referee of the Year award was won by Hauxi Liu.
Hauxi said "I started playing volleyball in college and in later years I started to feel like I wanted to get more involved. So, I started to get my training while I was in China. After I came here, four years ago, I felt like I still wanted to do it. That's why I joined, and I'm so glad that after the pandemic, I'm still here, I'm still at Volleyball England and I'm still on the referee stand."
Young Volunteer of the Year
The winner of the Young Volunteer of the Year 2022 is Isla Greig.
Isla joined her club in May 2021 and has thrown herself into volunteering as well as playing. She said "It was a long summer because we had GCSEs in May, so as soon as GCSEs were finished, I joined [the club] and then I basically had three months completely free, to play, do tournaments and help out as much as possible. It was every weekend once school started and after school."
Volunteer of the Year
The Volunteer of the Year 2022 is Sze Nam Chan (Sam).
Sze said "I love volleyball and feel like I benefit a lot from volleyball. So, I want to promote this sport in the community. So, Urbond VC gave me a lot of opportunities to work with the youngsters. So, I hope they can benefit from this sport as well."
HEVO of the Year
Sam Sorsky won the HEVO (Higher Education Volleyball Officer) of the Year award.
On getting a huge 7.5% of Durham University's population signed up to take part in recreational volleyball, Sam said "it's kind of a case of you've got to do anything to rope them in for that first session, and the moment they touch the ball in that first session, they're hooked.
"I'll tell them we have a good partnership with Deep Dish [for] our tour. So, this year that's how we sold it, we talked about the beach volleyball and having fun in Portugal. So, that was something that allowed us to bring in the Durham clientele if you will."
Lond Service Award
The Long Service Award was won by Ian Legrand.
Ian said "firstly, I appreciate the fact that someone's nominated me, and I do appreciate the time and effort they've spent. So, hopefully we share this award. I've been involved now for nearly 50 years, so I think [it's] just some thanks to the people who started me off."
Club of the Year
Leeds Gorse Volleyball Club won the 2022 Club of the Year award.
Dave and Penny from Leeds Gorse Volleyball Club said "That's what it's about [seeing young people enjoying themselves playing volleyball], that's why we do it. That's the main reason why we've always done it. We've now just got the opportunity to deliver [volleyball] to more children. It's just that opportunity within schools to deliver it. We're so lucky that we've now got coaches within those schools who are just spreading enthusiasm. You give them it and they will take it. It's as simple as that. We've just had that opportunity."
On helping refugees and those from other countries to play volleyball, they said "Volleyball is a language in itself, you don't need to be able to speak it, but everybody can play it. It doesn't matter where you come from, or what you have, or what you don't have. Volleyball is the language and that is it really. Once you have that common language, you don't need anything else, it's as simple as that."
Serena Morten Safeguarding Award
The winner of the Serena Morten Safeguarding award is Mark Jones.
Mark said "The award's not just for me, the award should be shared with every single safeguarding officer in every single club in the country. My job and my remit has always been, since my son took an interest in volleyball, to do something and put something back. He got a lot of help from volunteers, like the coaches at Leeds Grose that have just won that fantastic Club of the Year award, and he now plays in the super league for Sheffield and is in the England Senior Men's squad. I filled my time doing something constructive, which was looking after the juniors, and safeguarding, and I'm available 24/7 365 days a year."
Peter Wardale Memorial Award
The final award of the evening was the Peter Wardale Memorial Award. The winner of this award is selected by the Volleyball England Broad of Governers and is awarded to someone who has made an outstanding contribution to the sport of volleyball. It is not awarded every year. This year it was awarded to Nick Shaffery.
Nick, who is the Children and Young People Lead said: "One thing that really gives me a great buzz is that children I've taught have then gone away and formed their own club. It's not quite [so] good when they turn up and beat ours, but seriously, that is probably the greatest thing, that they move on from there. It's also been great for my family, and they've enjoyed the game and their friends. Certainly, taking some youngsters and that [volleyball] becomes their thing, their identity, and they take it on and develop it and the game grows from that. That's really the biggest thrill of all I think."
Nick began playing volleyball in 1972 and began his coaching career at 18. He started his teaching career in 1979 at St. Edmunds School and that was the start of the volleyball junior development dynasty.
Nick established Tettenhall Tigers and was instrumental in setting up Balck Country VC. Since the 90s, he has produced many volleyball publications, including his most recent success: the Volley2s Guide to Teaching and Coaching Volleyball, which has reached over seven hundred schools and clubs.
In 2018 Janet Inman approached Nick to lead the newly formed Children and Young People Group. Taking on the task of reviewing the junior competition structure that culminated in the launch of the U15, 16 and 18 Grand Prix format with a significant increase in the number of teams and young players participating in junior competitions.
Congratulations!
A massive congratulations to all our 2022 award winners, they are all so well deserved. They are such an inspiring group of people who have given their everything to volleyball over the past year.
If you missed the live event, you can watch back the 2022 Volleyball England Annual Awards in partnership with Huck Nets here, the event starts at 1:32:15.
A huge thank you Dave Rogers for hosting a fantastic event, and to our independent judging panel Jenny Betteridge, Kate Hannon and Alastair Marks for giving up their time to help us celebrate the volleyball family and our incredible volunteers.