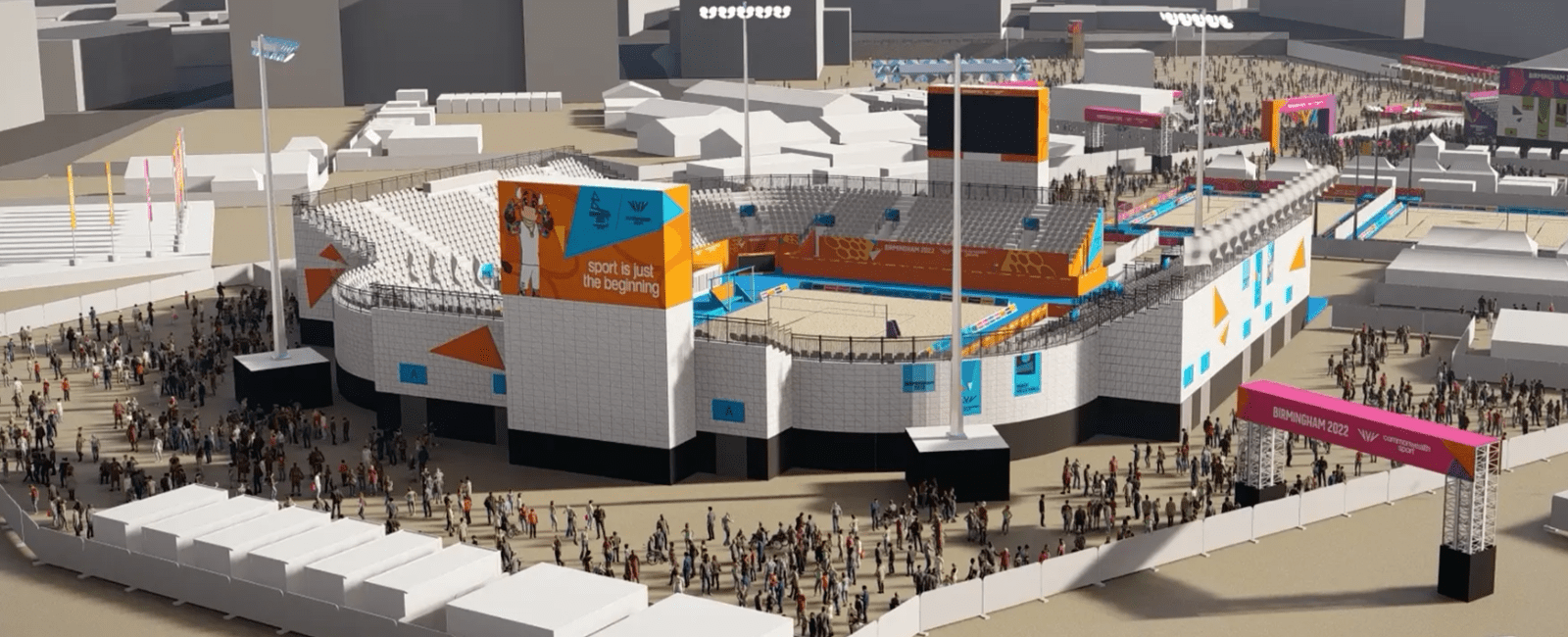 Beach volleyball at Birmingham 2022
Beach volleyball makes a welcome return to the Commonwealth Games programme for Birmingham 2022 after dazzling fans on its debut on Australia's Gold Coast.
A fast-paced team sport with explosive movement, masterful ball control and a party atmosphere, beach volleyball is being tipped to be one of the star attractions.
Commonwealth Games beach volleyball fixtures and results
Beach volleyball will star on 9 out of 11 days of spectacular sporting action at the 2022 Commonwealth Games. The Games' opening ceremony is set for Thursday, 28th July and two days later the first athletes will step out onto the beach volleyball courts. Featuring both weekends, beach volleyball continues right through the Games until its climax on Sunday, 7th August, the penultimate day of the Commonwealth Games, when the battle for bronze, silver and gold medals climaxes.
Team England games
During the pool stages there is a Team England match on every single day, with the men's team kickstarting the action.
Men's competition:
Saturday, 30th July, 14:30: England vs Tuvalu - 2-0 (21-10; 21-12)
Monday, 1st August, 15:30: England vs Cyprus - 2-0 (21-11; 21-18)
Wednesday, 3rd August, 20:00: England vs New Zealand -0-2 (19-21; 16-21)
Women's competition:
Sunday, 31st July, 20:00: England vs the Solomon Islands - 2-0 (21-10; 21-6)
Tuesday, 2nd August, 20:00: England vs Scotland - 2-0 (21-17; 21-15)
Thursday, 4th August, 20:00: England vs Vanuatu - 0-2 (9-21; 19-21)
The knockout stages begin on Friday, 5th August.
Men's quarterfinal: Friday, 5th August, 16:30 England vs Gambia - 2-1 (21-16; 20-22; 15-12)
Women's quarterfinal: Friday, 5th August, 20:00 England vs New Zealand 0-2 (13-21; 15;21)
Men's semifinal: Saturday, 6th August, 16:00 England vs Canada - 2-1 (21-15; 13-21; 7-15)
Men's bronze medal match: Sunday, 7th August, 15:00 England vs Rwanda - 2-0 (21-11; 21-12)
Coverage
We'll be courtside for all of England's beach volleyball matches, bringing you live updates and photos over on Instagram. There will be widespread coverage of the Games across BBC TV, BBC iPlayer, Red Button, the BBC Sport website and BBC Sport mobile app.
Smithfield: the home of beach volleyball
The concrete canvas of Smithfield is being transformed into a bustling festival site complete with a spectacular 4,000-seat beach volleyball arena.
Fans flocking to Smithfield will be met with 'have a go' volleyball activities to test jump height and spiking speed. Adjacent to the site is the 3v3 basketball and 3v3 wheelchair arena.
This urban setting is a stark contrast to the golden sands of Australia from the 2018 Games but will provide a fitting backdrop for this young and vibrant sport.
With explosive movement, masterful ball control and intense drama on court and a party-like atmosphere off it, fans are in for a treat as the biggest beach volleyball competition since London 2012 arrives at Smithfield.
Need help with your journey to Smithfield? Check out the Birmingham 2022 website.
This is Smithfield. A new home for sport and entertainment during #B2022.

Here's a glimpse of what the HUGE new city centre site will look like when it hosts Beach Volleyball, 3x3 Basketball and festival events this summer.

Get tickets for Smithfield👇 https://t.co/gudtLRjkID pic.twitter.com/1LLpNNJwlw
— Birmingham 2022 (@birminghamcg22) July 1, 2022