5 Apr 2022
UK Sitting Volleyball Team head to The Hague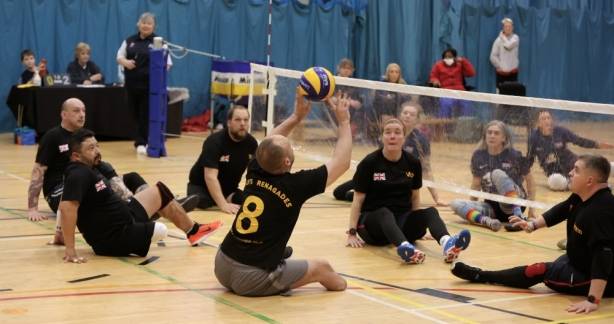 After being postponed from 2020, The Invictus Games in The Hague are taking place from the 16th to the 22nd April 2022.
The Team UK Sitting Volleyball squad will be making their way to The Netherlands to compete against international teams of wounded, injured and sick servicemen and women.
The athletes called up to represent the UK in sitting volleyball are:
Chris Anslow
Jordan Armitage
Tony Booth
Jason Finlay
Tom Folwell
Vikrant Gurung
Sherry McBain
Steve Rice
Dave Wilkinson
Vicki Ross (Captain)
Tony Young
The UK Sitting Volleyball Team have won medals at every Invictus Games since the inaugural competition in London in 2014. This years' team will be fighting hard to try and continue the pattern and add another medal to their collection.
Richard Osborne, Head Coach of UK Sitting Volleyball Team said: "The journey to The Hague started back in November 2019, which seems a lifetime ago. Obviously, all our preparations leading up to the games were put on hold as the COVID-19 pandemic brought everything to a standstill, and when the programme restarted in November 2021, we essentially had to press the restart button.
"Although it is nearly two and a half years since we began, the players have actually only been together for 20 days and it is to their immense credit that they have achieved the level of performance they will now take to the Netherlands.
"I am incredibly proud of their hard work, good humour and support for each other and I'm excited to see how far that effort will take them.
"Whatever the outcome, we must not lose sight of the fact this process is to aid their recovery, and how they move on with their lives after the Invictus Games. Judging from what I have witnessed I have little doubt they will be fine, and I hope they will continue to play sitting volleyball for many years to come."
Photo: UK Sitting Volleyball Team competing at a recent Sitting Volleyball Grand Prix by Malcolm Beadle