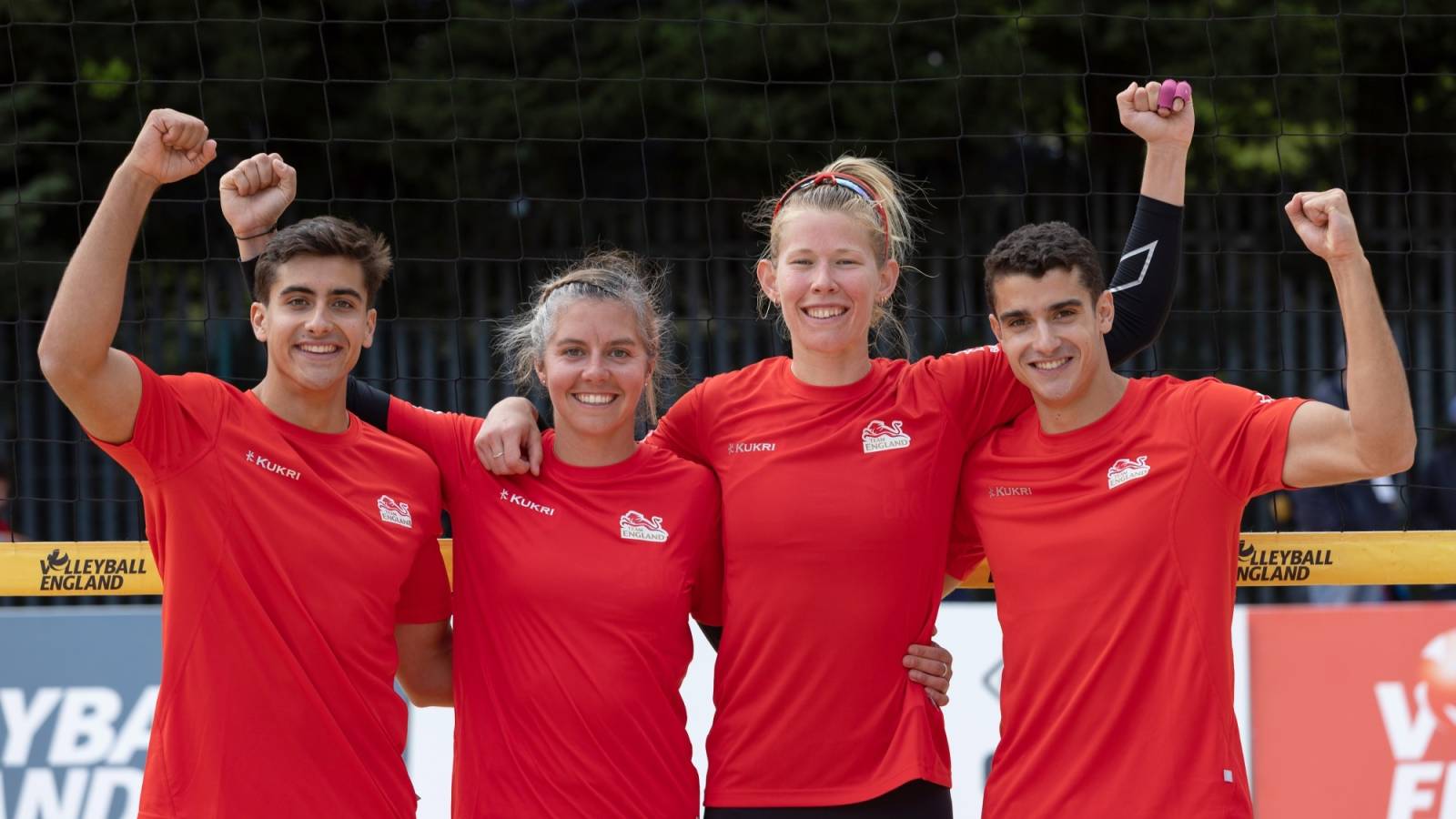 Yesterday, Javier and Joaquin Bello and Daisy Mumby and Jess Grimson won the Team England Selection Tournament at Deep Dish in Crystal Palace, securing their places to represent the home nation at the Commonwealth Games this summer.
The Selection Tournament was the biggest beach volleyball tournament on home soil since the 2012 Olympic Games, and the victorious athletes will now be aiming to 'Bring it Home' for Team England. They will play in front of the Smithfield crowds in the centre of Birmingham from Saturday 30th July to Sunday 7th August.
This summer, Team England will comprise of over 400 athletes in total, all of whom will look to capitalise on the once in a lifetime opportunity to bring home success in their own country. The beach volleyball pairs representing Team England are:
Jess Grimson & Daisy Mumby
Javier Bello & Joaquin Bello
The Bello brothers, aged 21, have been making history from an early age. Javier and Joaquin won a gold medal for Team England at the Bahamas 2017 Commonwealth Youth Games. The twins were born in Madrid, Spain, but count London as their home and have played volleyball since the age of 6.
The Bello twins won the selection tournament in two straight games to crown them the winning men's pair. Javier Bello said: "We're ecstatic right now and we'll have a quick celebration then back to work on Monday to prepare for the Commonwealth Games, which has been our goal since the Gold Coast. We saw the Gold Coast and we said we wanted to be at the next one and now we've accomplished that so onto the next goal, which is to win a medal."
Jess, 31, and Daisy, 30, are a new partnership having teamed up at the start of 2020. Both have transitioned into beach athletes after playing indoor volleyball. Jess, originally from Leeds but now based in Bournemouth, competed for Team England at the Gold Coast 2018 Commonwealth Games.
After an exciting selection tournament for Grimson/Mumby, going to a decider in the final set of the third game, Daisy Mumby reacted: "I could barely breathe when it was over, I think just due to excitement. Already having a great crowd here supporting us today and the whole weekend, it's just going to be bigger and better at the Games."
Team England's Chef de Mission, Mark England OBE, welcomed the athletes to the team: "Beach volleyball is a relatively new Commonwealth sport, but we have an incredibly talented pool of athletes in England and that was demonstrated this weekend. I am delighted to welcome Daisy, Jess, Javier, and Joaquin to Team England, and I look forward to watching them Bring it Home over the Games."