27 Jun 2022
Beach volleyball stars scoop trio of gold medals ahead of Birmingham 2022 Commonwealth Games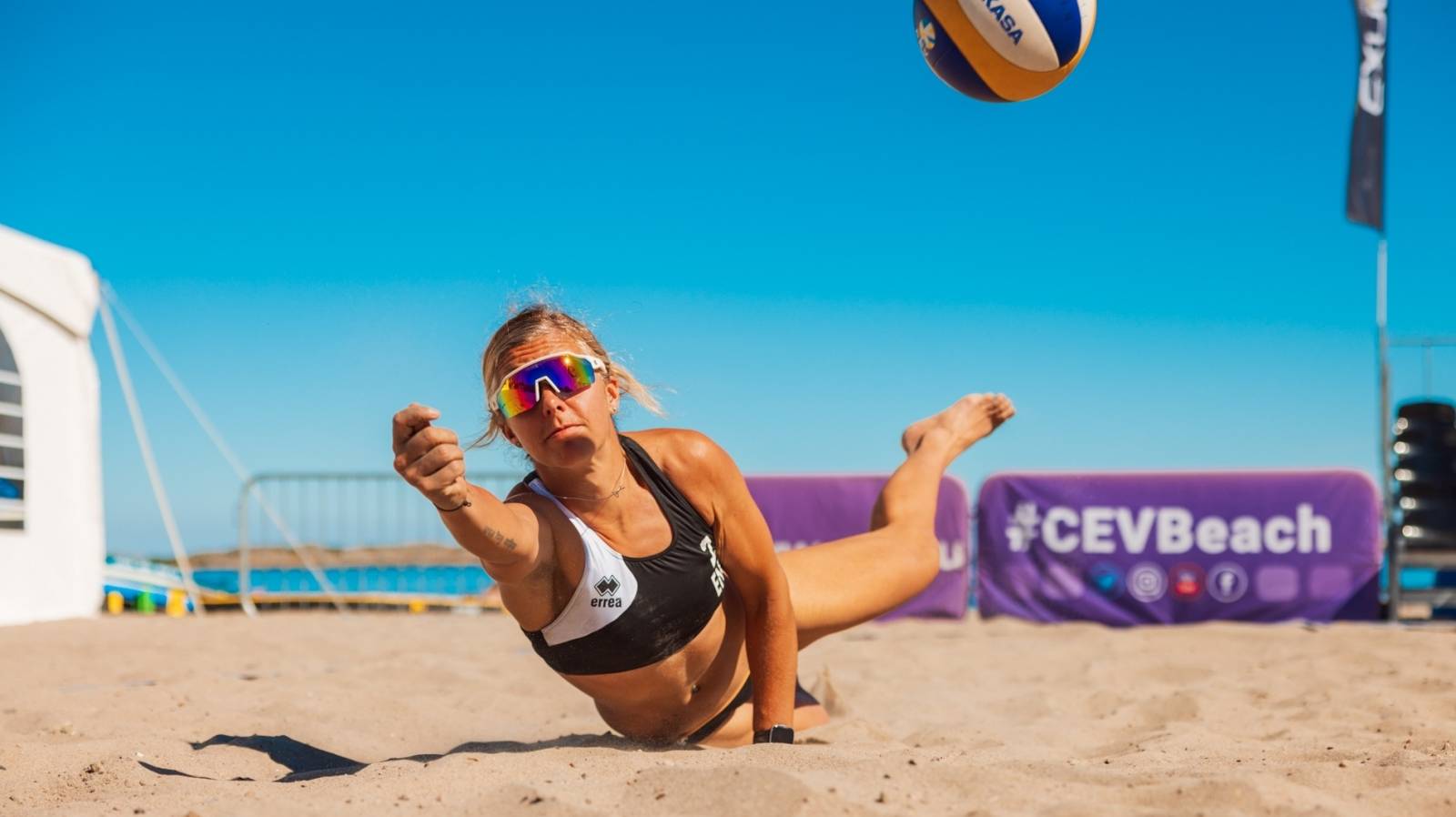 With weeks to go until the 2022 Commonwealth Games, England's top beach volleyball teams are in hot form after winning three gold medals.
Last week Team England's men's pair Javier and Joaquin Bello, aged 21, and women's team Jess Grimson, 31, and Daisy Mumby, 30, triumphed in their respective tournaments at the NEVZA Beach Championships.
Winning gold represents an historic milestone for England's women's teams. No women's team had previously medaled at the event, let alone finished top of the podium. Jess and Daisy beat Norwegian team Saga/ Steinsvåg 2-0 (21-14; 21-14) to secure the honours " a first international medal for Daisy, and a first international gold for Jess.
For the Bellos brothers, they secured a 2-0 (21-14; 21-14) victory in an all-England final against Issa Batrane and Freddie Bialokoz, who came home with a silver medal for England.
Held southwest of Oslo, Norway, at Oddanesand between 22-24 June, the men's tournament was contested between 25 teams and the women's 21 teams from North European Volleyball Zonal Association countries. In total there were 5 English men's teams and 3 women's teams in the tournament.
History makers
Jess Grimson, who comes from Leeds, said: "The first NEVZA medal for any English women's team ever is a big thing for us to accomplish.
"We had some good games in the competition and in the final we played some very good volleyball, which is something we wanted to put into practice from training.
"To come out with the win is obviously good for us physically and mentally going forward."
Daisy Mumby, who comes from London, added: "This is the first of four tournaments for our Commonwealth Games preparations, so it's great to have started with a gold.
"Obviously, we need to stay grounded and humble and make sure we continue with the training.
"We're out of the UK until we head to Birmingham, so we're taking this opportunity to train and play with as many different teams as we possibly can."
England's triumph came after the Bello brothers scooped a gold medal on the Spanish Beach Volleyball Tour. Javier and Joaquin came back from behind to beat Spaniards Moreno/Sanfelix 2-1 on Asturias's Jurassic Coast in Ribadesella on 19th June.
Javier Bello said: "Really happy with our recent performances in Spain and Norway, the medals being the icing on the cake. Seeing so many of our fellow England athletes playing at NEVZA, including our little brother Enrique, made it extra special.
"Our preparations for Birmingham 2022 are going well. We cannot wait to play in front of a home crowd and not only show them what we can do, but what a spectacular sport beach volleyball is."
All of the England teams came away with at least one win. Harry Jones and Niko Gleed followed-up their recent victory at the Small Countries Association tournament in Ayr, Scotland, with a 5th place finished. Sam Dunbavin and Haydn Lawson came 9th and Enrique Bello and Josue Stephen Seekings Lucchesi Rocha 13th. In the women's competitions, Vicky Palmer and Alana Snow finished 7th and Anna and Katie Keefe " who, playing with Isabelle Tucker, was also victorious at the recent Small Countries competition " finished 9th.
Team England's Birmingham 2022 beach volleyball teams
Jess, Daisy, Javier and Joaquin secured their places to represent Team England at the 2022 Commonwealth Games in Birmingham after winning the Selection Tournament at Deep Dish in Crystal Palace, at the end of May.
The Selection Tournament was the biggest beach volleyball tournament on home soil since the 2012 Olympic Games, and the victorious athletes will now be aiming to 'Bring it Home' for Team England. They will play in front of the Smithfield crowds in the centre of Birmingham from Saturday 30th July to Sunday 7th August.
Jess and Daisy are a new partnership having teamed up at the start of 2020. Both have transitioned into beach athletes after playing indoor volleyball. Jess, originally from Leeds but now based in Bournemouth, competed for Team England at the Gold Coast 2018 Commonwealth Games.
The Bello brothers have been making history from an early age. They won a gold medal for Team England at the Bahamas 2017 Commonwealth Youth Games. The twins were born in Madrid, Spain, but count London as their home and have played volleyball since the age of 6.
Photo: Visuello/Norgestour