28 Jun 2022
Key Birmingham 2022 legacy project gets underway with Aston Villa Foundation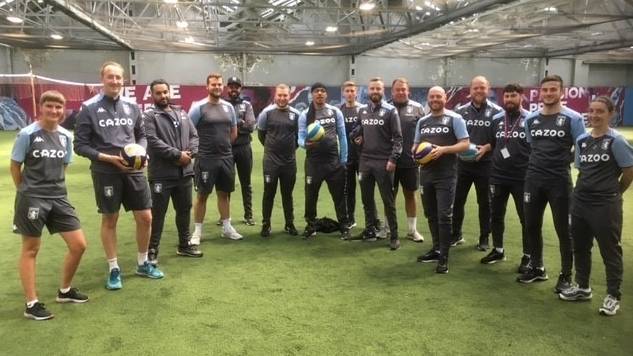 With one month to go until the opening ceremony of the 2022 Commonwealth Games, we're delighted to share details of one of beach volleyball's key legacy projects.
Thanks to a partnership between the Volleyball England Foundation and the Aston Villa Foundation " the Premier League football club's official charity " coaches will be upskilled with the essential knowledge and equipped with the necessary gear to deliver volleyball to hundreds of children in Birmingham.
Earlier this month experienced volleyball coach Nick Shaffery delivered a first session based on Volley2s, an adapted 2v2 version of volleyball for children aged 7-11, to 15 of the Aston Villa Foundation's community coaches.
Since it was launched in 2021, the free guide to teaching and coaching Volley2s has been downloaded more than 700 times, predominantly by those delivering sport in schools.
Volley2s helps to slowly develop volleyball fundamentals by gradually introducing children to a full version of the game. Its versatility, accessibility, emphasis on fun, and low equipment and space requirements not only make it an ideal steppingstone for introducing youngsters to volleyball, but an ideal game for introducing children to sport.
Boosted by a donation of volleyballs from Sportset, who are Volleyball England's official ball supplier, and outdoor net systems from the Volleyball England Foundation, the community coaches will take what they've learnt into schools and community groups in local areas of high social deprivation.
This project has been made possible thanks to support from Sport England's Innovation and Digital Fund.
Simone Turner, Chair of the Volleyball England Foundation, said: "Thank you to everyone at Aston Villa for their support and for helping us to introduce volleyball to the young people of Birmingham.
"We look forward to seeing the outcome of this project and seeing whether we can replicate this elsewhere."
Clare Francis, Vice-Chair of Volleyball England, is leading work on beach volleyball's Birmingham 2022 legacy. She said: "Congratulations to both charitable organisations for getting this project off the ground, and a huge thank you to Sport England for their support.
"This project is a key component of our Birmingham 2022 legacy work. We look forward to seeing many new youngsters playing volleyball for the first time and, who knows, one day we may even see Aston Villa in our Super League!"