19 May 2022
NVL: Champions, promotions, and relegations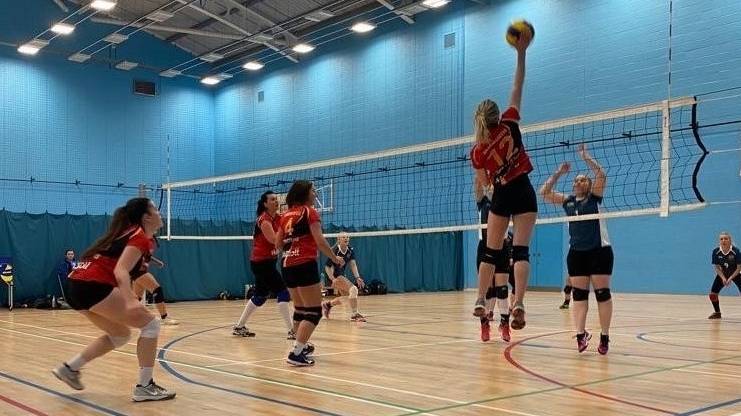 The completion of play-off matches at the weekend marked the official end of the 2021/22 National Volleyball League season.
Old rivalries were reignited and new friendships forged when the league, the highest competitive level for teams in England, bounced back in October for its first full-season since the Covid-19 pandemic began.
James Murphy, Competitions Working Group Lead, said: "There have been many excellent displays of volleyball throughout the entire pyramid of volleyball competitions.
"Congratulations to our league champions and those successful in their bid for promotion. And commiserations to the relegated teams, I know you can come back stronger next season.
"Our attention has already turned to the 2022/23 season. As well as the usual planning, I am delighted to say we are working with an unprecedented number of new teams who have shown an interest in entering."
Below is an overview of the league winners, promoted sides, and relegated teams for each division. Please note league tables are yet to be finalized for 22/23.
Women's NVL
Super League
Champions: Durham Palatinates
Division 1
Champions: Bristol VC
Promoted: Leeds Gorse Women's 1
Relegated: Richmond VB
Division 2 (North)
Champions: Leicester Athena
Promoted: MK City
Relegated: Black Country VC
Division 2 (South)
Champions: Wessex W2
Relegated: Cardiff Falcons and Reading Aces
Division 3 (North)
Champions: Everton Belugas
Promoted: Stockport
Division 3 (Central)
Champions: Coventry & Warwick Riga 2
Promoted: Tamworth Spartans
Division 3 (South East)
Champions: Northampton
Promoted: Rhino's Cambridge
Division 3 (South West)
Champions: Urbond VC Portsmouth
Men's NVL
Super League
Champions: Durham Palatinates
Division 1
Champions: University of Nottingham
Relegated: Cambridge ARU, The Miners Doncaster VC
Division 2 (North)
Champions: Derbyshire Darkstar
Promoted: Black Country 1
Relegated: York VC
Division 2 (South)
Champions: Coventry & Warwick Riga
Division 3 (North)
Champions: Lincoln Cannons
Promoted: Wombourne VC
Division 3 (Central)
Champions: London Baks
Promoted: Norwich Spikers
Division 3 (South)
Champions: Surrey Spikers
Photo: Tamworth Spartans