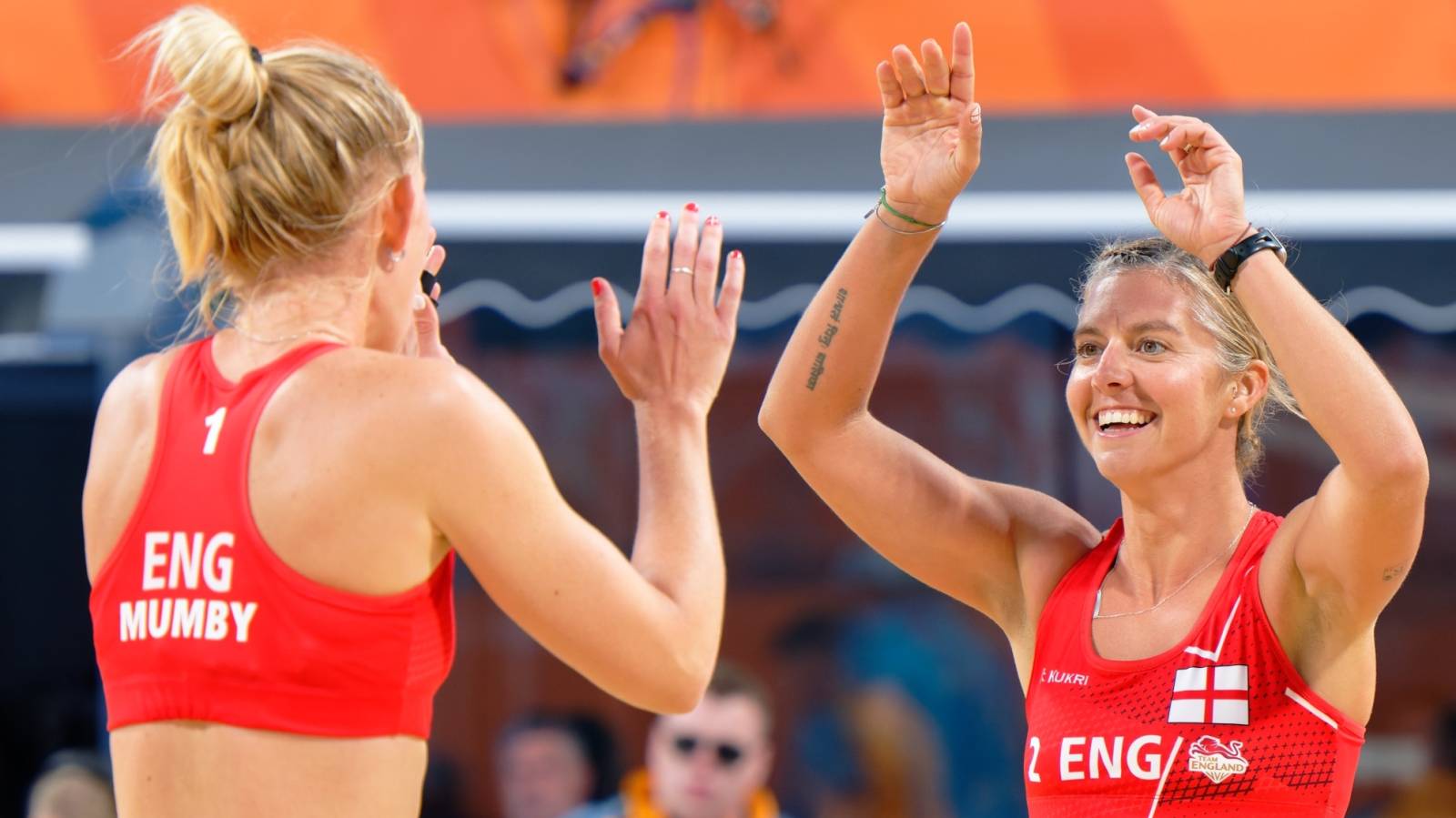 England's beach volleyball teams have marched into the quarterfinals of the 2022 Commonwealth Games in Birmingham.
Daisy Mumby and Jess Grimson – 'Team DJ' - will play New Zealand at 8pm on Friday, 5th August after finishing 2nd in Pool C.
Javier and Joaquin Bello also came in second place. They will face Gambia in the first round of the knockout stages in a game to be played at 4.30pm, tomorrow.
With the roar of a home crowd behind them, England's teams recorded impressive performances in the group stages. They'll be hoping to keep that positive momentum going as they reach the business end of the competition and vie for their place on the podium.
Both of England's quarterfinals matches in the beach volleyball tournament at the 2022 Commonwealth Games will be streamed by the BBC.
Re-cap: the Bello Brothers' path to the quarterfinals

Javier and Joaquin were cool and composed as they beat Tuvalu 2-0 (21-10; 21-12) in the tournament opener.
"Really spectacular, the venue is amazing," said Javier, asked about the occasion. "The fact that it was full for the first game says a lot. It shows how much love there is for beach volleyball and how much love there is for us.
"We are really excited that there are so many people here to watch us. We have family and friends out there. Hopefully the momentum will keep us going for the next few matches."
Despite the challenge of waiting 48 hours until the next match – Javier admitted they usually play a lot of games every single day during competitions – they kept that momentum going.
Cyprus provided a trickier test than the Pacific Ocean Island nation, especially in the second set, but the result was the same – 2-0 (21-11; 21-18).
Joaquin said: "I had a good presence on the net, and I think I definitely affected the way they had to hit - making them a little bit scared to go with power, so that they shot at my brother, and he could get some digs and score some points."
The home support was just as strong for the Bello Brothers' second game. In fact, it was so loud it created a minor problem for the Team England athletes.
"When we score a point, we can't even hear each other," added Joaquin. "I'm trying to talk tactics to my brother, but it's too loud in there!"
Both performances prepared the Bellos nicely for their final opponents of the group: New Zealand. The Kiwis – one half of the team that won bronze at the 2018 Commonwealth Games – were England's toughest opponents to date and when the two teams locked horns on court, it created a real spectacle.
New Zealand were victorious, though the 0-2 (19-21; 16-21) scoreline didn't do the Bellos' performance justice.
"[England] play a hugely physical game, both of them can fly and they were hitting a lot of good balls," said Kiwi defender Bradley Fuller. "We ended up getting a few good blocks because of it and I think it was a strength of our defence. Sam [O'Dea] did really well in serving. There was nothing hugely wrong, I think we played a really solid game here."
On qualifying for the quarterfinals, Joaquin said: "Obviously we are very happy to have qualified, but we have higher aspirations. We want to try and win a medal, so the quarterfinals are just the beginning."
The Bellos will play Gambia in the quarterfinals at 4.30pm on 5th August 2022.
Competition re-cap: England women's team
Daisy and Jess' campaign started with a confidence-boosting 2-0 (21-10; 21-6) win over debutants The Solomon Islands.
Daisy said: "I was pretty nervous this morning, I am not going to lie, and had the whole day to try to mentally prepare, physically prepare.
"I knew it was going to be difficult as a first game, but we proved we deserve to be here and put on a good show."
That match saw the duo achieve 16 aces. "Serving is definitely one of our strengths," Daisy continued. "We didn't really know what to expect from this team because they don't go on the World Tour much, so we don't have much video to watch from them, so we knew we had to nail them with our serve, and we managed to do that."
Next up was the Auld Enemy derby against Scotland. With a number of Saltires and Union Jacks in the stands, England didn't have the entire crowd on their side. Scotland came out strong and took the lead but Team DJ came from behind to take the victory over 2 sets (21-17; 21-15).
Jess said: "I have been playing against Mel [Coutts] and Lynne [Beattie] for 10 years, since I was a junior, and there is always a bit of an extra something on the game.
"We had a game plan and we knew the sort of block defence we wanted to do. That started from the serve, which we let ourselves down with, so we had to change it up, hence a lot of communication, staying patient and just trusting the process.
"We had a point to prove and we have proved it."
Asked what her and Jess spoke about during the time outs, Daisy added: "Patience was one of our key words. Even though we were one, two points behind, we came back. We didn't change anything tactically, it was just – do better."
On qualifying for the quarterfinals, Jess said: "It is a relief that we can go into our last game in the pool stage with a little less pressure on that result, so we can play a little bit free and hopefully show a bit more of what we can do. I don't think we have shown that yet, but we will get there."
With two wins in the bag and their passage to the knockout stages guaranteed, Daisy and Jess entered their final match against Vanuatu – one half of the team which won bronze at the 2018 Games – without, as Jess said, pressure on their shoulders.
Vanuatu dominated the first set 21-9, but England came back fighting and led for most of what was a nail-biting second set. Vanuatu crept back into the set and finished on top 21-19.
Daisy said: "In the second set, we managed to bounce back a little, but it took us too long to get going. They are a really good team and really strong.
"If we started the first set with the same intensity as we started the second set, it would have made a difference and if it got to three, it could have been anyone's game.
"Unfortunately, we weren't able to give ourselves the chance to work our magic. Everything starts with a pass and, unfortunately, the pass was not there today."
Daisy and Jess will play New Zealand in the quarterfinals at 8pm on 5th August 2022.
---
Head to our dedicated Birmingham 2022 pages for more information on the athletes, the competition, and how to get involved in beach volleyball.