7 Aug 2022
Bello Brothers triumph to beach volleyball bronze at 2022 Commonwealth Games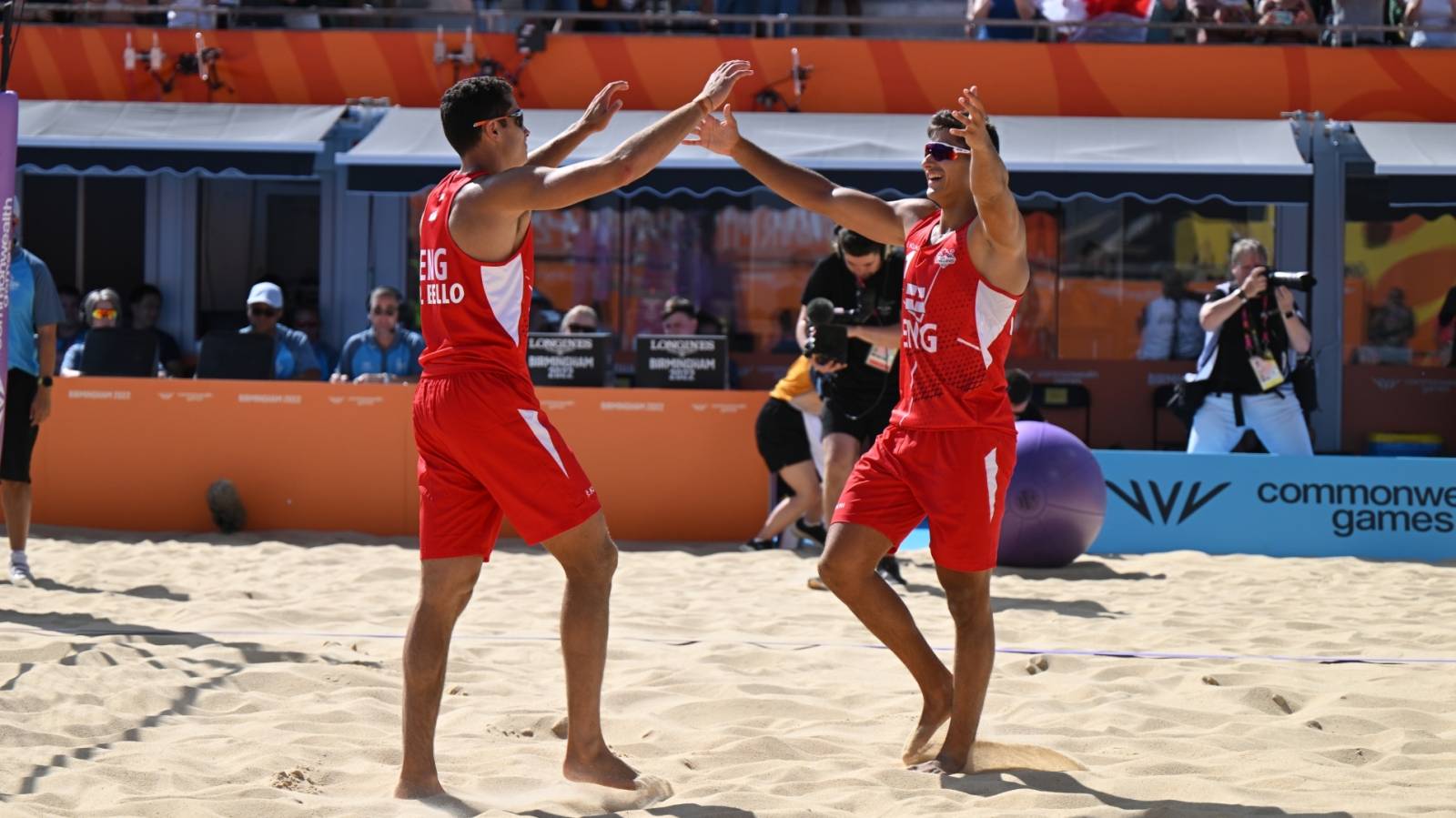 Javier and Joaquin Bello overpowered Rwanda 2-0 (21-11; 21-12) to win an historic bronze medal in beach volleyball at the 2022 Commonwealth Games in Birmingham.

If there was a roof on the Smithfield Arena - or, as it has been fondly nicknamed, the 'Bellodrome' - it would have been blown right off as the Bellos soared to victory.
The Bellos were cool and calm and put Rwanda under relentless pressure, controlling the game throughout.
A landmark day for the country, the medal is up there amongst England's very best achievements on the world stage. It comes 5 years after the Bello Brothers won gold at the Commonwealth Youth Games.
The Bellos beat Tuvalu 2-0 (21-10; 21-12) and Cyprus 2-0 (21-11; 21-18) in group C but lost to New Zealand 2-0 (19-21; 16-21) to advance to the quarterfinals.
There they beat Gambia 2-1 (21-16; 20-22; 15-12) in what was a war on court but, despite a strong start, were stopped in the semifinals by Canada in a 1-2 (21;15; 13-21; 7-15) encounter, setting them up for a bronze medal match against Rwanda.
"I dedicate my medal to my family"
"This is, by far, the biggest achievement we've ever had," said Joaquin. "It's the biggest stage we have ever played in at a senior event, but it won't be our last.
"I'm so incredibly grateful to my family. We dedicate these medals to our family. They have worked as hard as us to get here. We know the sacrifice our parents make, and we're very proud of them.
"We want to move up the world rankings and try qualify for Paris 2024 [Olympic Games] and just be the best beach volleyball players we can be."
Javier added: "We were gutted yesterday [after losing their semifinal] and that fired up [our] intensity. From the first point to the last, we were in our highest gear, we pushed the serve, didn't let them breath a lot. I am really proud of my brother, the way he stayed with it and the way he helped me out when I was struggling. I am really proud of my performance [too].
"This event is going to be huge for beach volleyball. The amount of people who are cheering us from the stands, from home on TV, on social media, seeing what an amazing show it is and how it can be enjoyed in the UK as well as in Brazil and other locations. We have a competitive team and fans, so why can't it be as big as football or any other sport?"
Team DJ brought the party

The Bellos' bronze medal came two days after their compatriots Daisy Mumby and Jess Grimson were knocked out of the competition after a brave performance against New Zealand in the quarterfinals. The match that brought a close to their competition ended 2-0 (21-13; 21-15).

2-0 victories over The Solomon Islands (21-10; 21-6) and the Auld Enemy Scotland (21-17; 21-15) meant a showdown with 2018 bronze medalists Vanuatu for first place in group C for Daisy and Jess.

Team DJ played their heart out, but it just wasn't enough, the game finishing 2-0 (21-9; 21-19), which saw them draw the Kiwis in the first round of the knockout stages.
"I am disappointed in the result, but not disappointed in our performance," said Daisy. "I am pretty proud of how we played. I think we put up a good fight against a strong team.
"It was just a shame we couldn't fight a little harder in the key moments. But I'm still happy with how we played."
Jess added: "This is the middle of the season and I've actually missed five tournaments by being here. But I wouldn't have missed it for the world.
"I have a week off then we're going to a tournament in Austria. This is just a small part of the rest of the journey.
"It's key for us to push the sport further. With Daisy's physicality and the level we are playing at the moment, we can get people excited."
We couldn't have asked any more of Daisy and Jess. They gave it their all and can leave Birmingham with their heads held high after putting on fantastic displays of volleyball and helping to lift Smithfield's beach volleyball party to another level.
An upward trajectory
Born in Spain. Made in England. The Bellos Brothers, aged just 22 years-old, continue to impress on the world stage with ever bigger accomplishments.

The twins have played volleyball since the age of 6 and have been making history from an early age. In their trophy cabinet, Javier and Joaquin have a gold medal from the Youth Commonwealth Games (2017), two bronze medals from the FIVB World Tour (2019 and 2021) a gold on the World Tour too (2021) and ahead of the Commonwealth Games they won a gold medal at the NEVZA Beach Championships (2022). And that's not counting any domestic achievements, where they are the reigning back-to-back national champions.

Richmond, where they also coach, is their home volleyball club. Javier recently graduated in Politics, Philosophy and Economics from the Royal Holloway University, while Joaquin has just started his fifth year studying medicine at Imperial College.

Jess and Daisy are a new partnership having teamed up at the start of 2020. Jess picked up a World Tour bronze medal, several top 10 finishes and competed at the 2018 Commonwealth Games. Daisy, of London, has carved out an unconventional path to the national team. A talented recreational player, she was encouraged to take beach volleyball more seriously in recent years " and the move has paid dividends.

Jess has played volleyball for 18 years - a chunk of that time at Wessex VC - while Daisy has 10 years experience in the game. The duo finished joint winners of the Commonwealth Games Funding Tournament without dropping a set and were finally able to make their World Tour debut in late 2021, qualifying for the 2nd round in a 4* event. They won an historic gold medal for England at the NEVZA Beach Championships in the run up to the Commonwealth Games.
---