16 Nov 2022
Great experience for England teams at U17 and U19 NEVZA Championships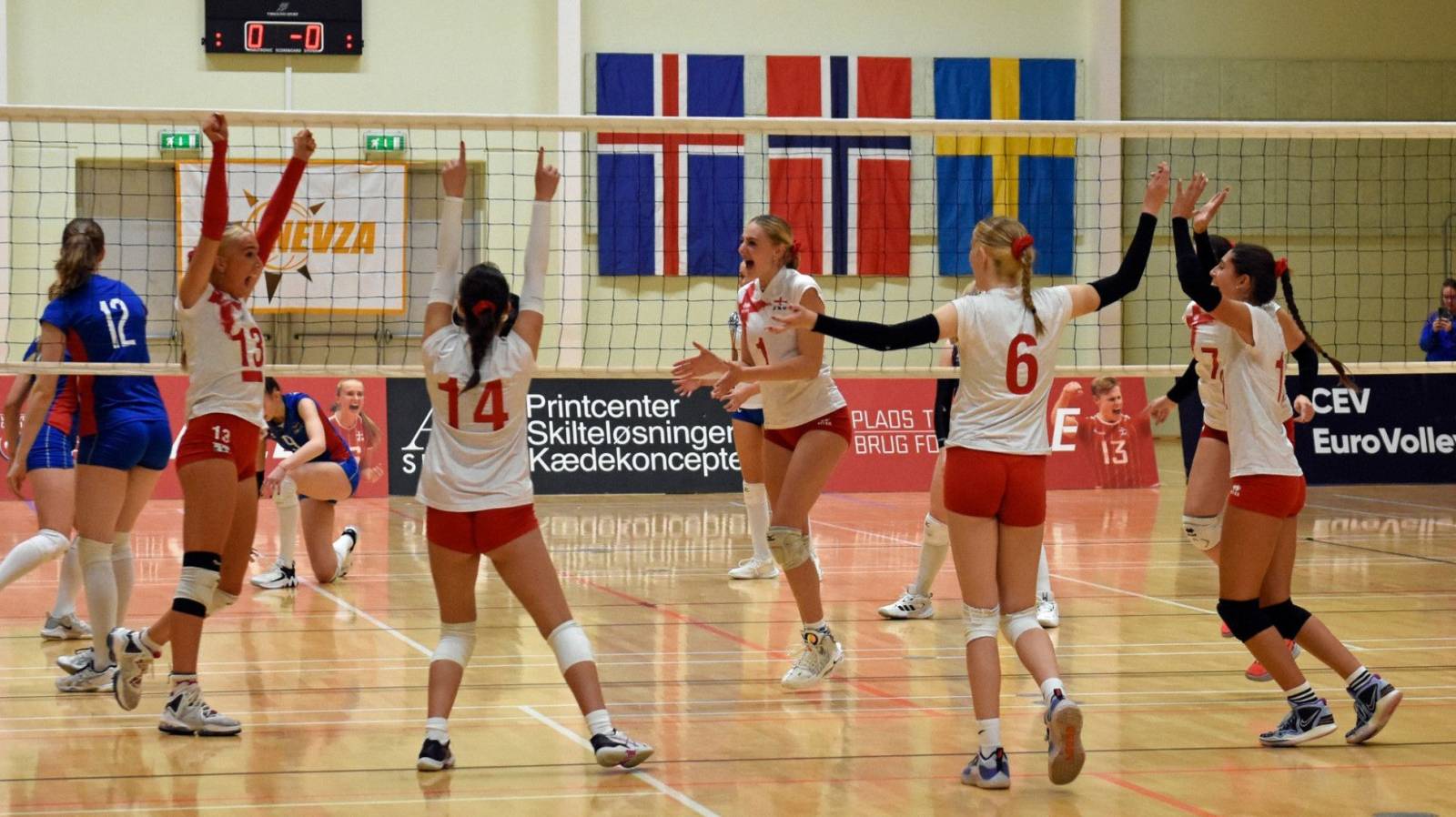 England's Cadet and Junior athletes can be proud of their performances at the recent U17 and U19 NEVZA Championships.
England's U17 girls came closest to the podium as they fought for a bronze medal against reigning champions Iceland. Unfortunately for England, it wasn't to be. Iceland secured the silverware in straight sets, the reverse score from when the two sides met earlier during the group stages.
NEVZA tournaments are held annually with national teams coming from England and the Nordic countries. They're one of the major competitive highlights and a great test each year for athletes on England's Talent Pathway.
U17 NEVZA Championships – Ikast, Denmark – 17-19 October
Head Coach Keith Trenam said England's Cadet Boys grew in confidence as the tournament advanced, culminating in a 3-0 victory over Iceland to seal a 5th place finish.
"The team started slowly but improved throughout," he added. "Many of the teams we played against live and train together. Unfortunately, we don't have access to those opportunities, but this tournament provided us with the chance to have more training time together. As we gelled as a team, our results improved."
During the group stages, the squad lost to both Norway and the Faroe Islands, but Keith believes the score would have been different had England played the Faroe Islands later on.
He was also full of praise for Dan Sampson, who came in as a late replacement for their first setter Luke Atkinson, and 14-year-old libero Maksymilian Makowski – both shone throughout.
Keith added: "Overall it was a very good learning experience to show where we are and what needs doing to fulfil our promise – and it's not far out of reach."
The Cadet Girls started strongly in their group matches, beating the 2021 U17 champions Iceland 3-0 and the Faroe Islands in an entertaining 5-setter to finish top of their group.
"To win 3-0 against the reigning champions was a fantastic start. The girls really hit the ground running," said Darren Lewis, Head Coach. "Although we were up 2-0 against The Faroe Islands, I felt they could come back in as they're very good serving and defending teams. Fair play to the girls, they kept their nerve.
"Any victory on the international stage is tough to achieve. So to be top of the group was fantastic."
England lost 0-3 to would-be winners Sweden in the semi-finals, but Darren said there was no shame in losing to what he described as "by far the best side" at the tournament.
A showdown with their group rivals Iceland followed for bronze. Unfortunately, with their opposition growing in strength through the tournament, the result was the reverse of their earlier clash, ending 0-3 to Iceland.
"I am very proud of them and what they've achieved," said Darren, who was quick to praise the team's serving. "I feel like the England Cadet Girls are setting the tone for all of the other squads to follow. They played great volleyball, they showed great discipline too. I hope this is just the start of something big for them."
While quick to praise the overall team for their performances, discipline and volleyball IQ, Darren picked out Daisy Boardman and Alice Jagileska as star players. He also praised Lauren Howe for her grit and determination to overcome niggling injuries.
U19 NEVZA Championships – Lapland, Finland – 28-30 October
While the results were not in England's favour, reviewing the Junior Women's tournament, there was a clear message from Head Coach Alex Smith: "This is the best they have played together as a team."
The U19s had a tough start to the competition with consecutive losses to Sweden, Denmark and The Faroe Islands in the group stage. A five-setter vs Iceland unfortunately did not end in England's favour and despite a loss to The Faroe Islands in their final game, there was much to be optimistic about.
Alex added: "It was a great experience playing against teams that did not make mistakes. They would take whatever we gave them and return it with more heat. We were also playing against defenders and servers that were a level above anything we see in England.
"Everybody played well at some point during the tournament. I was most pleased about our receiving serve and team determination.
"After graduating two years of U19 athletes who had no opportunity to earn any junior caps, it was brilliant to be back taking a team to complete in full internationals."
Mia Bradbury was voted as England's MVP for her fantastic defence and attitude to keep going despite being under pressure. Heidi Sheridan, the most supportive and enthusiastic member of the squad, was voted Players' Player of the tournament.
On the Boys side, Assistant Coach Phil Crawford agreed it was an excellent learning experience for the U19 Juniors squad.
He said: "Competing against nations with full-time programmes, which allow their athletes to train 1-2 times per day, the England U19 team did not travel to Finland with score-based goals.
"The outcomes and measures set by Sam Shenton, the England U19 Programme Director, allowed the athletes to test themselves against their peers from other nations and the team to continue to progress and develop.
"Under the tutorage of Head Coach Sam Bragg, the England U19 programme aims to close the gap on the completion and maximise the learning opportunities of every contact and exposure the staff have with athletes.
"As the programme evolves and enters a new cycle, there is great excitement about the future for the England U19 program and athletes. What part can you play in the progression of our sport and athletes?"
Phil added: "A big thanks is owed to the England U19 Team Manager Andrew Tuck who continues work tirelessly behind the scenes to ensure the smooth running of the programme."
A special thanks
Preparing for and attending major tournaments would not be possible without the support of some very special people.
First of all, a huge thank you to the athletes' parents for their encouragement and support, especially those who flew out to cheer for England so loudly from the stands.
Secondly, thank you to the referees who helped organisers to create a fair and safe environment for the players. Calin Alexandru, Maciej Madejsza, István Elsik and Steve Smith all travelled from England to Scandinavia to support the tournaments.
Last but by no means least, we would like to place on record out sincere gratitude to RAF Northolt for allowing our U19 men to use their facilities in the run up to the competition.